5 Examples of Beautiful Hallway Designs
/
January 30th, 2015
/
There are currently 0 comments
The hallway is the first thing that guests see when they enter your home, as well as the first thing we see after a long day at work. However, as the only non-room in the house, it's easy to neglect this space in your interior design plans.
A beautiful entrance is the easiest way to ensure that your property makes an immediate impression. We've trawled the web to find the most beautiful hallway designs by some of the most inspiring designers. Which is your favourite?
Splashes of Colour
This traditional design shows how a splash of colour can effortlessly transform and lift a space. Keeping the carpet runner, walls and floor neutral, makes the flowers stand out beautifully.
Get the look – with our Electro Stair Runner 
Traditional Glamour
If you want to add some fifth avenue glamour to your home, then this is the design for you. This style is all about sumptuous interiors, with rich wood, glossy floors and plenty of lighting. Think of the entrance to a high-end department store, or a historic five star hotel.
Get the look – with our Plain – Beige Stair Carpet Runner
Black and White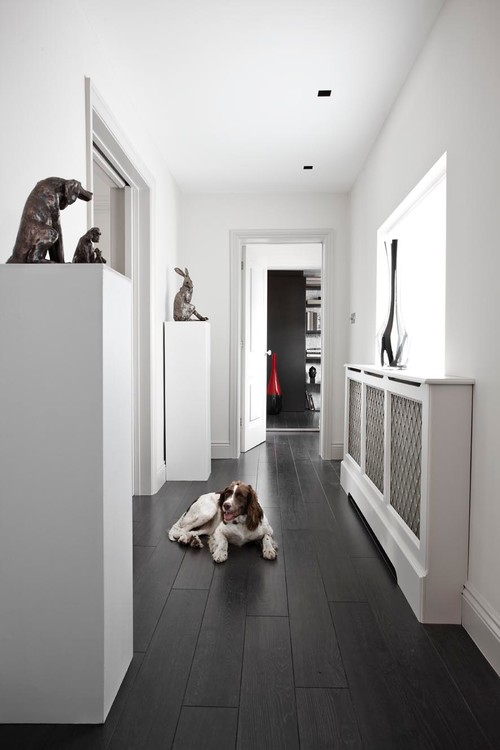 Modern designs often rely on a completely whitewashed palette. However, a black floor and black statement walls are a great way to give the space some edge. The predominantly white walls and ceiling draw the eye upwards, preventing the room from feeling dark.
Pretty in Plum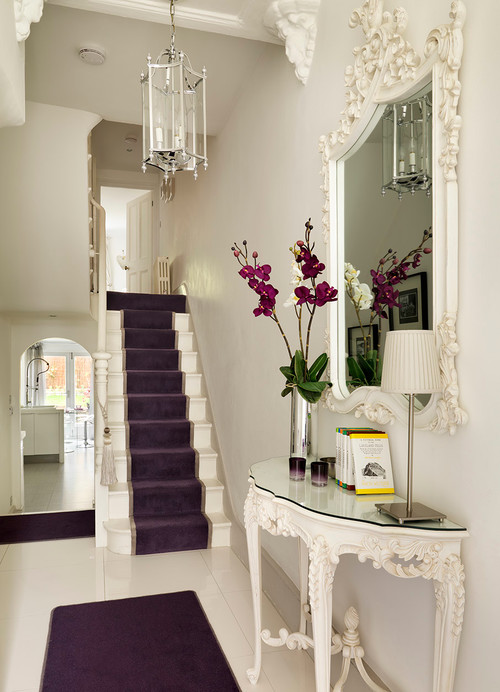 Traditional Staircase by London Interior Designers & Decorators My Bespoke Room 
This beautiful design is testament to the fact that sometimes simplicity is the way forwards. The cream walls, floor and décor ensure that the purple runner, carpet and flowers catch the eye, making them the focal point of the space.
Get the look – with our Capitol – Purple Stair Carpet Runner
Monochrome

This design is a great example of how a statement rug or runner can transform a narrow hallway, creating the illusion of a wider space. The clever use of white semi-gloss paint, bright ceiling lights and a beautiful runner, also make what could be a dark, cramped space feel light and airy.
Get the look – with our 50 Shades of Grey Stair Runner
Don't neglect your hallway – these beautiful designs show just how amazing you can make this space. Which one's your favourite? Have they inspired you? Let us know in the comments.